Catapulting off the success of their phenomenal Middle-Eastern inspired family of restaurants, mamnoon, anar and mamnoon street, Wassef and Racha Haroun have announced their newest location: mbar.
Located in the vibrant South Lake Union neighborhood, mbar opens on Thursday, September 8 on the 14th floor of 400 Fairview Avenue N. This innovative restaurant features a contemporary menu of cocktails and dinner devised by Chef Jason Stratton who draws inspiration from a range of regional cuisines, including Northern Italy, Spain, the Middle East and the Pacific Northwest. "I'm excited to dive into my own culinary history, drawing influences from some of the top dining destinations in Seattle," says Stratton, "while expanding my own palate with a collection of new ingredients that represent the changing face of Seattle's international dining scene."
Mbar is designed with the intention of merging the outdoor and indoor spaces, resulting in one large room. The dining room offers traditional dinner service, while diners enjoying the expansive outdoor space can choose from the more casual bar menu. The Harouns have curated progressive mixed media art elements from locale, regional and Lebanese artists, which play a major role in the restaurant's modern decor and ambiance.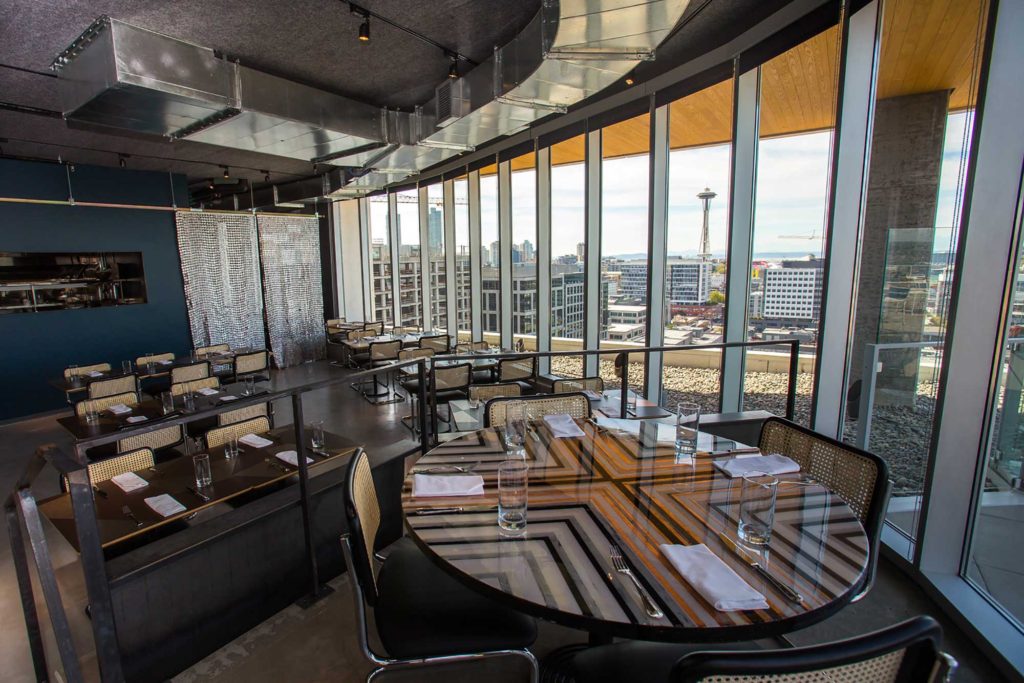 Enclosed by glass, the 2,800 sq. ft. space has unobstructed westerly, northern and eastern views of the city. The outdoor area features fire pits, covered and heated outdoor dining space and flexible seating clusters for small and large group. A solar powered outdoor roof feed power back to the grid, creating a low energy usage, on par with the ecological efforts of other buildings in the neighborhood.
Mbar is open for cocktails and dinner from 4pm-10pm, Sunday-Thursday and 4pm-11pm, Friday and Saturday. Reservations are available at (206) 457-8287 and mbarseattle.com.